He highly suggest booking your lessons in advance. This will save you time once on the slopes and allow us to assign the most convenient instructor depending on your level and age.

After confirmation of your accommodation, book your lessons by e-mailing us and indicating:

- Desired lesson date(s)
- Desired periods: AM-PM-Full day
- Number of persons (adults/children)
- Type of lesson: skiing or snowboarding



If taking the morning (AM) lesson, your instructor will meet you at your hotel.

Only individuals with the SAME level will be grouped together.


Private

Ski Lessons

Snowboard Lessons
Duration
1 person
per extra person

1 person
per extra person
AM session
9:00-12:00
$140
$40
$170
$55
PM session
12:30-15:30
$140
$40
$170
$55
Full day
9:00-15:30
$235
$50
$285
$55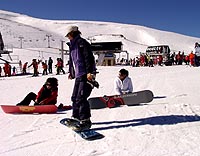 Enrolling in a class is the quickest and safest way to learn to ski or snowboard. Our specially trained ski pros focus on individual attention to ease the learning curve. You can relax and learn at the same time while making quick improvement and feeling that you're really getting somewhere fast. Learn with people of similar abilities and explore with people who know the mountains best.

SkiMzaar.com has gathered experienced ski and snowboard instructors in Mzaar ski resort (ex Faraya Mzaar) who can help you improve whether you are a total beginner, an intermediate, or an advanced rider wishing to discover the hidden tracks of the mountains. The concept of the courses is building the individuals skill and confidence to enable you to ride the whole mountain and not be restricted by terrain. Skills development during a course will greatly benefit carving your skis or controlling your snowboard.

WE OFFER PRIVATE LESSONS ONLY
The advantage of private lessons is that the instructor can concentrate on your individual needs, taking the time to diagnose where you need help and to make sure that you understand any new concepts. Even two or three hours of private tuition can give you lots of ideas on how to improve, which you can then practice on your own. This is particularly useful for beginners and those who have reached a plateau and don't quite know how to progress. Each individual has different strengths and weaknesses that need to be identified and developed.

CHILDREN
We accept children from 5 years old and above. Teaching is through games aimed at making children feel happy both on snow and on their skis. They then progress to learn snow plough turns, simple step turns and easy downhill runs. Most teaching methods for children involve little explanation and a great deal of copying movements. Children's technique often develops directly from the snow plough to parallel turns simply through progressive increase in speed and narrowing of the skis, much to the irritation and pride of the parents!